Every-time time you think about a new look you experience the whole gamut of emotions. You are considering hair extensions, but you're unsure about the terms. Is it hair weave or weave hair, or hair extension? This is your first time, so you want to understand what you'll be getting when you go to buy your hair extension. Fret no more, you are in the right place.
So what exactly is a hair weave?
A weave is another word for hair extensions. Hair extensions are frequently used by women, especially black women the world over. They're often installed by weaving them into the hair or gluing them to the hair from the track. When a weave is installed correctly, it looks beautiful and very natural.
How did hair weaving begin?
Even though it's has been around for centuries, hair weaving as we know it today has come a long way. Hair extensions originated around 5000 B.C. in Ancient Egypt. At the time it was a status symbol, today, and women used to weave their hair to give it volume and thickness. Today, it's a fashion symbol.
Why Do Women Wear Hair Extensions?
Every women will have a different reason for this hair styling choice. Here are a few that we know about:
Saves time – Hair extensions makes it easy to style hair quickly and save time.
The length – Greater hair length can be achieved with extensions than would normally not be possible with natural hair.
To cover up hair loss – Sometimes a weave is worn to cover up bald patches, or even hair loss due to health reasons.
Protection – Hair extensions protect the hair and help it grow and gain thickness.
To give the hair a break – It's a good idea to give your real hair a break from relaxing and braiding. Hair extensions provide that opportunity.
Hair in transition – When transitioning from relaxed to natural hair, many women start by getting a weave, then allow their natural hair to start growing out.
Social acceptance – Society often portrays a beautiful black woman with long, voluminous hair. Since many female celebrities wear weaves, this only reinforces society's standard, and many conform in order to be accepted.
Types of Hair Extensions
There are so many types of weave to choose from. But it's easy to feel a little lost if you don't know which is which. Hair extensions can either be Remy (virgin) hair or non-Remy. They come in different varieties, lengths, styles and textures.
Some Definitions:
Virgin hair – human hair that has not been chemically processed. This hair is harvested from a single donor.
Remy hair – This is 100% human hair that is harvested from the head of several donors, but in a way that maintains the alignment of the hair cuticles, in relation to other neighboring hair strands.
Non-Remy hair – The roots and tips are mixed. This means that not all the hairs lay in the same direction. Note that non-remy hair has been chemically processed.
Here are some popular choices for hair extensions.
Virgin Remy Hair – Curly Hair Weaves
Brazilian Hair Weave With Closure – Virgin Hair Deep Wave 3 Bundles With 1 Closure – Natural Color Kinky
Indian Virgin Hair – Natural Hair 6A Indian Virgin Hair Loose Wave Bundles

Source: http://www.shopahoy.us/hair-weaves/yestar-natural-hair-6a-indian-virgin-hair-loose-wave-bundles-1pcs-100-grams-bundle-100-real-human-hair-weaves-more-wavy/
7A Malaysian Virgin Hair 4 Bundles
Source: http://beautydepartments.com/index.php/product/430-top-7a-malaysian-virgin-hair-4-bundles-malaysian-body-wave-human-hair-weave-unprocessed-virgin-hair-ombre-hair-extensions/
Peruvian Virgin Hair Bundles – Curly
Source: https://www.aliexpress.com/item/Natural-Color-Unprocessed-Virgin-Peruvian-Bouncy-Curly-Hair-Weaves-Short-Peruvian-Virgin-Human-Hair-Wefts-3pcs/32387941412.html
There are also other types of hair extensions that are available in Remy and non-remy form. These also come in different lengths, colors, and textures. Here are some more varieties.
Wavy, Kinky, Curly, Or Straight, here are some hair extension hairstyle ideas.
Wavy Hair Weave

Source: https://manbeauty24.com/25-types-of-stock-of-wavy-weaves-hairstyles/
Crochet hair weave

Source: http://www.informationng.com/2016/08/stephanie-coker-flaunts-her-engagement-ring-and-its-a-stunner.html
Human hair weave – Indian Remy – Straight

Source: https://www.aliexpress.com/af/category/200004934.html?g=y&sk=aImIMr72r&d=n&terminal_id=2985e9329f024b7d863b01b4c77c4ab4&cpt=1515407821704&blanktest=0&origin=n&spm=2114.11010108.111.3.ptqHeb&jump=afs&aff_platform=link-c-tool&aff_trace_key=81583856b7d84b2189aacde8be7f995d-1515407821704-07299-aImIMr72r&CatId=200004934&catName=human-hair&isViewCP=y
Brazilian – Body Wave – Budget Hair Weave Source: https://www.omgqueen.com/body-wave-cheap-virgin-brazilian-hair-good-quality-u-shape-wigs-buw02
Natural hair weave – Kinky Textured Wefted Hair (No Clips)

Source:http://www.hergivenhair.com/kinky-textured-wefted-hair-no-clips-p-1/
Remy Hair Weave – Body Wave

Source: http://worldhairextensions.com/blog/learn/styling-extensions/how-to-style-your-leave-out-to-blend-with-wavy-hair
Straight Hair Weave – Sew In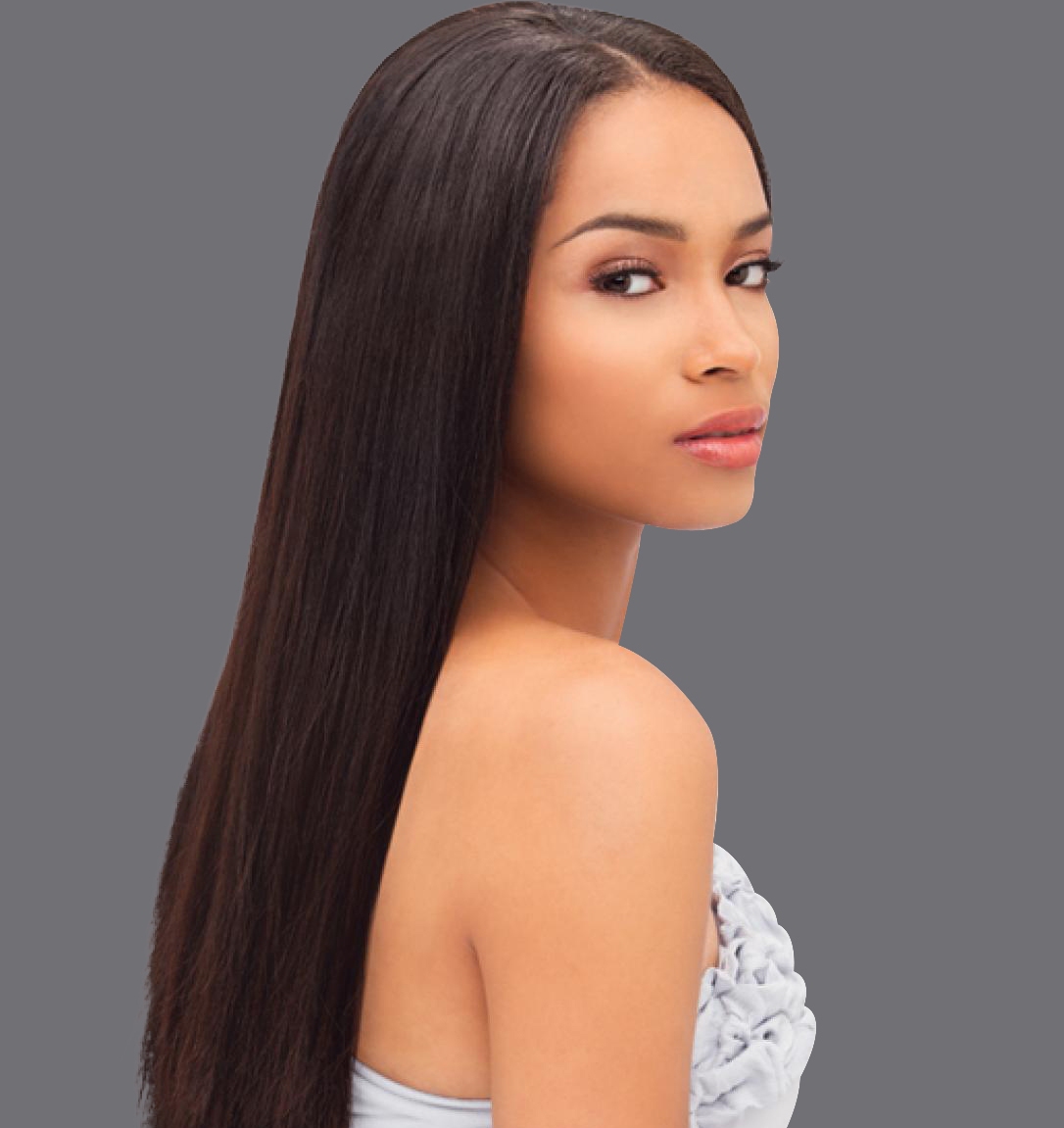 Source: http://hairstylesg.com/long-hairstyles/sew-in-hairstyles/
Curly Weave Human Hair – Curly Braids
Things to consider when choosing a hair extension
The beauty of a hair weave/extension is that with a few touches of the comb, you can easily transform your look as often as you want.
So, when choosing a weave, first decide on the the style you want – i.e., curly, straight, wavy, or kinky?
Curly – For a curly style, go for textured hair.
Straight – For a straight look, choose the silky straight. Think the Yaki straight hair, or Remy hair.
Wavy – For wavy hair style, opt for hair that's versatile and has body, like Malaysian virgin remy.
Kinky – For kinky hair look, choose an afro-textured weave, and try to match it as closely as possible to your own natural hair.
Other things to consider:
Quality – Hair extensions can be a bit pricey, depending on what you're looking for. The best type of hair extensions are 100% Remy Human Hair . They are the highest quality that you will find on the market and yield the best results in terms of durability and their ability to look the most natural.
Budget – Even if you have budget constraints, there are affordable options. This is because Remy hair comes in two versions – Remy, and non-Remy. There's a wide variety to choose from, including synthetic hair, which will be less expensive.
Matching Hair Color – Finding your color match is not just important, it's critical, if you're going to avoid that fake or wig look that literally cancels out all the efforts and money that you've put into your hair.
Hair Texture – This is very important, particularly when it comes to Remy, virgin hair. The most popular virgin hair extensions on the market are Brazilian, Peruvian hair, Malaysian hair, Indian, and Eurasian hair.
Due to the texture and hair type, each kind of hair extension works better with certain ethnicities than it does with others. Alternatively, there are some types that work well with just about any type of hair texture, and therefore ethnicity. Remember that if the hair extension doesn't match your hair in texture and color, it will not look natural.
Origin – Since the hair does comes from a human head, some women want to know where the hair comes from for cultural or even religious reasons and also how it's harvested. If this is important to you, do your research and let the results guide you on your choice of one weave, over another.
Versatility – For some, the ability to weave (no pun intended) from one look or style to another in minutes or even seconds, is the greatest advantage of wearing a hair weave. sheer practicality of it often overrides all other options for styling hair.
Hair Weave Q & A
I've just had a hair extension put in. Is it Ok to dye my real hair?
It depends on the kind of extensions. Most human hair extensions can be colored to match and blend better with the natural color of your hair. On the other hand, synthetic hair extensions should not be colored, for safety reasons.
I want to apply my hair extensions myself. Do you have any DIY tips?
Installing a weave is a process that's better left to a professional.If it's not done properly, it can cause hair breakage due to the tension resulting from hair being pulled from the scalp.
If I wear a synthetic hair extension that's braided, will it help it grow? I want to know if it's only remy virgin hair that makes hair grow?
The answer is no. Normally, the decision to use virgin hair or synthetic hair is mostly a question of finances or choice. What is important with any type of braids is to avoid any kind of excessive tension, as this can lead to a type of hair loss called traction alopecia.
How long does it take to install hair extension?
Your hair stylist will be able to give you a definitive answer. It really depends on how the weave is installed. If it's the glue method, which is the quickest, it can can be completed in 45-60 minutes. There's also the track and sew method which involves portions of hair being braided into a track. The hair wefts are then sewn into place. The fusion method takes the longest, and can sometimes be done over several sessions.
I'm thinking of getting a weave but I have short hair. How long does my hair have to be?
It depends on the type of hair extension and the stylist installing the weave. For natural hair, this can be anything from one or two inches, up to as much as 5 inches. Some methods require longer hair. What you want to remember is that the length of your hair in the beginning can affect the results you get. If your hair is quite short, then you will most likely need to have your hair blended with layers before installing the extensions, so that it doesn't show too much.
These demo videos show you the process of installing a hair weave.
The Sew-In Method – Brazilian Straight
The Glue -In Method
The Fusion Method – Using Silicone-Based Micro Links & Malaysian Hair
The Clip-in Method
These are also known as clip-in wefts. They're available in long or short lengths and have clips that are sewn into the strand. The extension is clipped onto the hair with a snap shut method. This makes it easy and quick to put in and remove.
To Weave or not to Weave?
There's no debate. Hair weaves are in! From the stay-at-home mom to celebrities and socialites, hair extensions are in demand. But use your judgement and weigh the pros and cons, then discuss them with your stylist before you make a decision on which type of installation method to use .
Here's an infographic to give you a broader picture of what weave type works best with what method.
Source: https://www.moresoo.com/blogs/moresoo-hair-blog/3-most-popular-hair-extension-methods-pros-and-cons
Here's what's great about hair weaves
Installing can be quick & easy – Depending on the type , a weave can be installed in a few hours. Changing looks is a breeze, so a hair weave is perfect for women who love versatility.
The Length – Women with shorter hair can have long hair within just a couple of hours. It's difficult for black hair to achieve the lengths that are possible with a hair extension. A hair weave can measure up to 30 inches long.
Protection – Wearing a hair weave helps protect the hair. This is good news for weak, damaged hair
Here are some things you need to know before your decide to weave
Cost – It's possible to find a hair weave for almost every budget, but remember to factor in the cost of having the weave installed. If you're on a tight budget then you might need to consider a cheaper way of adding length to your hair, like clip-ins.
Pain & Discomfort – If the hair is braided first, the tracks of hair will be sewn into the braids. The pain and discomfort occur because of the pulling that often occurs during braiding. If you have a sensitive scalp, or low tolerance for pain, consider using bonded hair extensions.
Quality – The good thing is that you can choose to pay more, or less for your hair weave. The downside is that you get what you pay for in terms of the results. Expect to pay a lot more for virgin remy hair than you would for synthetic hair.
Weave Care Tips That Help Your Hair & Scalp
Don't neglect your own hair while wearing a weave. A good hair care routine will ensure that your hair stays healthy. Here are some things you can do.
Prep Your Hair – It's a good practice to wash and condition your hair before putting in a wave. Use a shampoo that contains selenium sulfide or zinc pyrithione, if your scalp is dry and flaky.
Be Prudent – Even though a hair weave is durable, they shouldn't be left in the hair for too long. Six weeks is long enough. Remove your weave within a reasonable time, and thoroughly clean and deep condition your hair.
Oil Your Scalp – Apply good quality natural oils to your scalp and massage thoroughly. If the hair is synthetic, there's no need to add oil to the hair.
Avoid Wearing Extensions That Are Too Tight
When extensions are applied too tightly, it puts pressure on the hair follicles. This can cause the hair to fall out, and if care is not taken, it can lead to permanent hair loss.
Take A Break – It's good to give your natural hair a break from time to time. Use this as an opportunity to check the overall condition of your hair and moisturize or deep condition, and trim the ends as needed. Try to explore other ways to groom and style your hair. Either way, the effort and time spent are a win-win for your hair.
Was this article useful? Did you learn anything that has motivated you to take action.
Leave us a comment below, we'd love to hear from you.
Whether this is your first time, or you're a faithful reader, expect tons of up-to-date tips and advice on hair, style, and grooming every week. From serious hairtalk, to updates on celebrities, or even something as simple as which salon to go to, we've got you covered.
https://blackhairspot.com/wp-content/uploads/2018/03/logo-1.png
0
0
Edith Nkwocha
https://blackhairspot.com/wp-content/uploads/2018/03/logo-1.png
Edith Nkwocha
2018-01-12 03:44:25
2018-02-20 00:33:34
What is Weave Hair, and Will it look Nice on me?